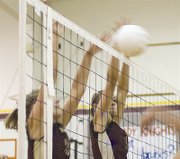 Playing at home last night, the Sunnyside Christian High School girls volleyball team opened the 2011 fall season with a 3-0 sweep of the Tri-Cities Prep Jaguars.
"I was very happy with how we played in our season opener," said Lady Knights Coach Stephanie Dalrymple following the match. "We came out strong and played well together as a team."
The Lady Knights led from the start in all three games. They won solidly with scores of 25-16, 25-13, 25-19.
The leader for Sunnyside Christian was senior Alyssa Haak, who was 11 for 11 in serves and had 18 assists.
Other Lady Knights proved their mettle at serving. Junior Alexandra Newhouse was 14 for 16, sophomore Brittany Broersma 10 for 12, junior Danika DeGroot 13 for 15, and sophomore Stormee Van Belle 8 for 9.
Says Dalrymple, "We have been focusing on passing and serving in practice. Our passing was good tonight and so was our serving. We know that if we keep the serve we have control of the game."
Senior Maddy Wavrin provided five of those perfect passes along with nine kills.
Despite solid leads, the Lady Knights had some difficulty ending games, with the Jaguars making good comeback efforts.
"We will be working on finishing our games and continue to work on making ourselves a stronger team," said Dalrymple.
The Lady Knights continue their schedule with a home match against the Mabton Vikings tomorrow night (Thursday).