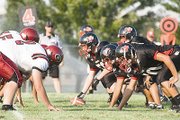 GRANDVIEW - Although the schools are not in the same league, there's nothing like watching a game between Sunnyside and Grandview.
Last night was no exception as Sunnyside's JV football team squared off against the Greyhounds JV at Rich Leenhouts Stadium.
The Grizzlies powered through the Greyhound defense for 27 points.
Grandview's JV squad was unable to answer from its offensive stance.
The first touchdown of the night was off a 60-yard pass from Eddie Gonzalez. He threw the ball to Elijah Pena for the touchdown in the first quarter.
Grandview's defense kept the Grizzlies from scoring the extra point.
The Sunnyside duo connected again in the second quarter. Gonzalez threw a 20-yard pass to Pena, who scored another six points.
The Grizz scored another two touchdowns in the second half.
The third quarter play was made when Gonzalez connected with Marcus Sanchez on a 25-yard pass. Sunnyside led the game 18-0 and Gonzalez was able to use the momentum to score on a two-point conversion from two yards out.
In the final stanza, Shawn Christiansen of the Grizzlies made it past the Greyhound defense on a one-yard run for another six points.
The point after was good off the foot of Jacob Galindo.
Sunnyside Coach Darren Mezger said, "Overall it was a great team effort on the defensive side of the ball and everyone on the roster contributed to the shutout win."
Sunnyside had a pair of interceptions by Christensen and one by Devin Church.
"We've got some work to do, but this is a good start to our season on JV," said Mezger.
Sunnyside will next face Davis at home on Monday, Sept. 12.