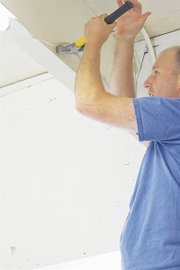 The Re-Store with Yakima Valley Partners Habitat for Humanity began as a garage sale in the early 1990's, according to the organization's executive director, Steve Luten.
By the late 90's Habitat for Humanity opened a store for donations. Now the store is open five days a week for business. The Re-Store is a thrift-like store with primarily home improvement and building supplies for sale. New and/or used items for sale are donated by area residents and local businesses.
"All of the proceeds go back to the community," Luten added. "Those who donate and purchase the items can be confident that their money goes back into their community," he said.
Habitat for Humanity began the planning stages to open a new Re-Store in Sunnyside, in early March.
When the realization that the Yakima location didn't reach the Lower Valley market as much as they would have liked, Habitat directors began looking for a location to open a new store.
"Knowing that Sunnyside is the retail hub of the Lower Valley, we started looking for a location here," Luten said.
The completed store will mimic the Yakima location with similar items for sale and similar pricing.
"The items we sell tend to be 50 percent below retail cost," Luten said.
Additionally, donations are tax deductible. The directors moved forward with the project and hired John Aranibar as the store's manager in June. Renovations at the 1516 Yakima Valley Hwy location began Tuesday, Sept. 6. The team of volunteers and staff are completely remodeling the old Carniceria "Sunnyside" from head to toe.
"We can't say when we will open yet," Aranibar said.
Habitat hopes to open the store soon, but Aranibar said the opening date will come sooner with more volunteers.
"We still need more volunteers and more supplies before we can open," he said.
Aranibar said some donors have gotten creative.
"Some people have donated food or drinks for the volunteers," he said.
And Habitat won't turn away any kind of help.
"We still need supplies like paint, caulking and vinyl flooring," he added.
Those interested in donating supplies, food or drinks, or to volunteer labor can contact Habitat for Humanity at (509) 840-4403, Monday through Friday from 9 a.m. to 5 p.m. Interested volunteers can also register online at www.yakimahabitat.org or by dropping in the store located at 1516 Yakima Valley Hwy.