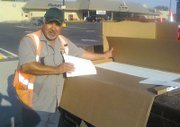 At first glance it might appear Sunnyside street crews are watching crosswalk paint dry, when in fact they are applying tape.
That's heat tape which the city is using more frequently instead of paint.
Looking like ceiling tiles out of the box, the tape is laid in place, then melted onto the street at temperatures up to 520 degrees. "Oils from the tape bond with oils in the street to help it stick," said city street employee Bob Cavasos.
Sunnyside city street employee Juan Uribe said the tape lasts up to five or 10 years in contrast to painted crosswalks that have to be re-done once or twice a year.
Uribe said the city has worked with the technology in the past, but is ramping up use because of the product's effectiveness.
The city's plan is to lay down the heat tape at all crosswalks on streets that have recently been improved. Accordingly, heat tape with its reflective surface has been applied at crosswalks along Sixth Street and Edison Avenue.
"Eventually all the crosswalks in the city will have heat tape," Uribe said.