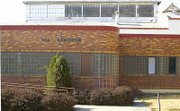 The Port of Sunnyside met last night after a day of discussion about the fate of the old Carnation plant on the corner of First and Lincoln.
The Port commissioners went on a tour yesterday morning of the plant with a consultant. The property has been offered to the Port for development by the current owners in exchange for no liability for the clean-up costs. Part of the land the plant sits on is contaminated, but the source and extent of the contamination is not clear.
Using money from a state grant, the Port has hired Maul Foster Alongi, a consultant company, to evaluate the land and the buildings and determine the clean-up costs and find the highest and best use of the property. In addition to being a milk processing plant, the property has been used by a series of wineries.
Along with a summary of the day's interviews and discussions about the Carnation plant, the Port meeting also covered the current budget and redistricting plans. A hearing on both the budget and the redistricting is planned for Sept. 19.
Another topic of discussion was the impact new and increased taxes the Sunnyside City Council is considering would have on Port-supported industry. The council is considering increasing water, sewer and garbage taxes from 6 percent to 27, 24 and 28 percent, respectively, and adding new EMS and stormwater taxes at 20 percent. If these taxes go through, they could have a serious negative impact on local industry, according to Port officials.
The last topic of discussion yesterday was the successful pipeline rehabilitation project of a deteriorating line along First Street. The project repaired 1,488 feet of 12-inch pipe from Aug. 18 to Aug. 20. Rather than digging up the pipe to replace it, a newer method was used that lines the interior of the pipes by inflating heat-softened material to fill the diameter of the space. This meant the work was completed quickly without the need to tear up and replace roadways or shut down streets.