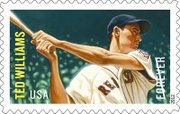 In the third of its four-part stamp series titled "Major League Baseball Heroes," the U.S. Postal Service will honor Boston Red Sox great Ted Williams.
The USPS recently released the stamp's image, announcing it will be available for purchase in July 2012.
Regarded as one of the all-time greatest hitters in Major League Baseball history, Ted Williams (1918-2002) was the last Major League player to bat over .400 for a single season, in 1941. He hit .344 over a 19-year career, including 521 home runs.
His career was interrupted by military service during World War II and the Korean War.
The other two baseball players featured in the series so far include Joe Dimaggio and Larry Doby.