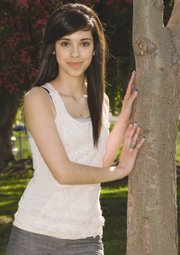 Although Janeth Vasquez may come across as mild-mannered, she is someone who seeks to be adventurous and unique.
She wants to serve as a positive role model, helping her community and is vying for the 2011-12 Miss Sunnyside title.
"I believe in the education of young children...it is important to begin at a young age," said Vasquez, who seeks to work with the Washington State Migrant Council's Epic Headstart program as a community service project.
Her mother, Josefina Moreno, is a child care provider and Vasquez said she views the early learning years as important preparation for kindergarten and beyond.
"Education is a big gift that can never be taken away from you," said Vasquez.
She said children in the U.S. have the privilege of learning from an early age. Even more of a privilege is the opportunity to receive a free education once children enter grade school.
"In other parts of the world education is not seen as an important matter," said Vasquez.
Preparing children for elementary school, she said, is important for a child's success once they do enter kindergarten. She believes developing a child's natural curiosity for learning will help them realize learning doesn't need to be boring.
"Kids could learn as they play or simply in everyday life," said Vasquez.
Helping her community's youngest citizens develop a desire to learn is Vasquez's goal.
Vasquez also enjoys learning. Her favorite subject is math and she aspires to become an architect.
"Architecture is a creative way to use math skills to design a living piece of art," she said.
Vasquez is a Running Start student and is planning to earn an Associate's degree by the time she graduates Sunnyside High School. She isn't certain which four-year college she would like to attend, but said business would be a good alternative to architecture.
At Sunnyside High School, she is involved as the junior class program chair and with Link Crew. She plans to join Latino Culture Club and Pep Club this year.
At the Miss Sunnyside Pageant set for Saturday, Sept. 17, Vasquez plans to perform a belly dancing routine to "Eyes Like Yours." She said it is a unique style of dance with its roots deeply imbedded in the Middle Eastern culture.
"It's unique to me because I am Hispanic," said Vasquez.
She believes belly dancing will provide the audience at the pageant with a cultural experience, as well.
Vasquez is the daughter of Josefina Moreno and Noel Vasquez. She has two younger siblings.
For the pageant, her sponsors are Angelito's Daycare, Celina's Styling Studio, Pepe's Bakery and Santana's Bridal.