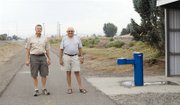 The Lower Valley Pathway would not be in existence if not for the support of community members.
Currently the pathway spans from Prosser to Sunnyside, but the original stretch from Grandview to Sunnyside was made possible due to the hard work of the Lower Valley Nouvella Club and several community members, according to Theron Lochner.
Lochner is a past president of the Lower Valley Pathway Committee.
He said plans for the pathway were developed in the 1960s and when it was constructed along Yakima Valley Highway on Yakima County property, there were several community members involved. They included people like Rita Blunk, Maxine Van de Graaf, Stan Snow, Don Hughes, Rudy Slupsky, Dick Jacobsen and Pete Sartin.
"They rallied for the pathway between Sunnyside and Grandview," said Lochner, crediting the two cities for their support, as well.
He said it is the vision of the committee that one day the pathway will connect to Yakima's Greenway path that is currently being extended to Naches.
"There is a national pathway program," Lochner said of the Pathways for Play organization, committed to helping communities develop shared use pathways.
Lower Valley Pathway Committee President Gary Martin said the newest campaign of the Lower Valley group is "Westward We Go."
"Friends of the pathway are looking to extend the pathway from Sunnyside to Outlook and Granger," he said.
The first phase in the project would be an extension of the pathway from Sunnyside's South First Street intersection with Yakima Valley Highway to the freeway interchange near Outlook. The project's second phase would be an extension from the Outlook interchange to Granger.
"We are looking for community support, not necessarily monetary support...we want a list of people willing to get behind the project," said Martin.
The committee is hoping community members on the list can help with advertising, talk with legislators, seek out grants and offer website design work.
Martin said the committee will have a booth at Sunnyside's Sunshine Days on the lawn of Banner Bank during a health fair hosted by Sunnyside Community Hospital.
At the booth, community members can sign up in a show of support for the pathway.
Also, said Martin, there will be a presentation provided at the Wednesday, Sept. 21, Sunnyside Parks and Recreation Commission meeting.
"This is the launch of the idea being presented to the public," said Martin, explaining the pathway is not maintained or supported by a government entity. It is maintained by the Lower Valley Pathway Committee, a non-profit organization.
Martin said clean-up, shelters and flowers along the pathway are provided by local volunteers and organizations.
"The pathway is a quality of life feature available to the community members," he said, stating it is a feature that provides those wanting to walk, run or ride bicycles a place to do so in safety.
Anyone wishing to pledge their support can contact Martin via email at garym@martindental.com.