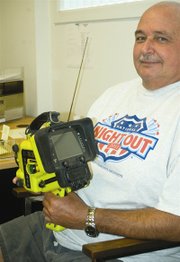 There comes a time when equipment becomes outdated and needs to be replaced.
For Sunnyside Fire Department's thermal imaging camera, the time has come.
The fire department will be using this year's annual Sunshine Days breakfast proceeds towards the funds for a new camera. The breakfast on Saturday, Sept. 17, will be held in Central Park, starting at 7 a.m.
Thermal imaging cameras are most often used by fire departments to detect heat sources, such as smoldering parts of the fire or even bodies still in harm's way. The current camera is nearly 15 years old. Deputy Fire Chief Lloyd Hazzard said the replacement parts for the camera are too expensive for the department. Hazzard also said the camera is used in structure fires to find hidden hot spots that allow firefighters to expose and extinguish the fire faster.
The fire department is hoping to raise $10,000, the cost of the new camera. During the breakfast, the current camera and a sample of a new camera will be out on display, along with informational pamphlets.
The all-you-can-eat pancake breakfast is $5 for ages 10 and up and $3 for children under the age of 9 and for senior citizens. All proceeds will go towards the purchase of a new thermal imaging camera. For more information or to donate to the fund, contact Sean Classer or Tony Castillo at (509) 837-3999.