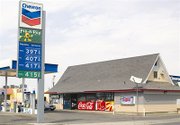 Sunnyside is one of eight municipalities in eastern Washington with contaminated areas that the state will clean up over the next two years.
The state legislature has made $6 million available to clean up sites in eastern Washington, such as old gas stations where fuel leaked into groundwater or former mining areas.
In Sunnyside there are three places contaminated by leaking petroleum tanks that will be cleaned up: Pik a Pop at 1524 Yakima Valley Highway, CMG Property at 502 North Ave. and Pet Health Clinic at 2210 E. Edison Ave.
"There has been contamination at these sites for a long time," says Joye Redfield-Wilder, a spokesperson with the Department of Ecology. "These were in the past abandoned petroleum sites that weren't properly closed out."
Besides the obvious benefit of removing a source of groundwater contamination, Redfield-Wilder said the clean-up should help Sunnyside's economy.
"It's going to enhance the community, improve the potential for new business and give the property owners more flexibility in using their property," she said.
She says the state will hire contractors to visit the Sunnyside sites next month to start the assessment process, which includes soil boring and possibly establishing a monitoring well.
Actual clean-up work in Sunnyside will begin next spring or summer, after officials have time to assess the extent of contamination at each site.
Before state officials start the Sunnyside clean-up, though, they'll first attack a problem in Buena, where the Department of Ecology has been monitoring groundwater contamination in 16 wells throughout the town.
That clean-up effort, the focus of a public meeting set for next Thursday, Sept. 15, at 6 p.m. at Buena Nueva, 66 Highland Drive, will include two sites, including a former gas station.
After Buena and Sunnyside, the next stops on the Department of Ecology's $6 million clean-up tour are Cle Elum, Richland, Okanogan County, Ione, Walla Walla and along the Spokane River.
"Hopefully within two years all the projects on the list will be done," Redfield-Wilder said.
At each locale the state will focus on multiple clean-up sites with a common pollution source, such as the three places in Sunnyside contaminated by leaking petroleum tanks.
"We're looking at a community-wide cluster for a more efficient use of tax dollars," Redfield-Wilder said.
She praised state lawmakers for freeing up money for the long-needed clean-ups. "It's pretty great in these tight budget times that we got this money for the clean-up."