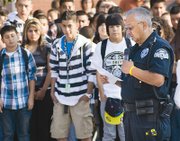 City and county fire and law enforcement officials, as well as local veterans, were honored this morning, Friday, as Sunnyside marked the 10th anniversary of the Sept. 11 terrorist attacks.
The ceremony, held at Harrison Middle School's courtyard, also featured appearances by school and city officials, as well as performances by the school's choir and band.
Harrison Middle School Principal Robert Bowman was a seventh grade teacher back in 2001. He recalled getting his child ready for pre-school when he turned on the television and saw the attacks unfold.
"I will never forget what I saw," Bowman told the students this morning, who also were nursery or pre-school age at the time of the attack.
He added, "I hope in your lifetime you never have to experience that."
In other comments this morning, school Superintendent Dr. Rick Cole said the 9/11 tragedy was a "defining moment for our country and the whole world."
Inspired by the 9/11 responders, Police Chief Ed Radder told students they could be heroes.
"Now is the time to do what is right, help your friends and don't pick on others," Radder said.
Also speaking this morning were city Councilman Paul Garcia and City Manager Mark Gervasi.
"Sept. 11 was a terrible day for a lot of people," Gervasi, a former middle school teacher, told the students. "Remember that and be a good citizen. Don't be afraid to get involved in public service."