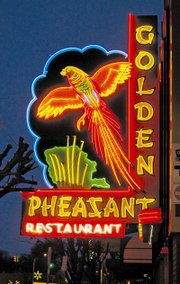 Participants in a meeting last night came to the conclusion that decisive action is needed to save and display the neon signs that are a part of Sunnyside's heritage.
The open meeting, called by Sue Jetter and Pam Turner, had the goal of formulating a plan of action for the signs, three of which are currently being stored by the city and in danger of damage or deterioration. Attendees gave opinions and ideas for possible display of the signs in a way that would add an attractive tourist destination to the city.
A popular idea presented by Henry Van Oostrum was to place the signs along the walkway on Fifth Street between Grant and Edison, possibly incorporating a mural to include signs that have been lost. Van Oostrum also suggested moving the Carnation water tower to the museum grounds as part of the display.
Another idea was to place the signs around town and develop a walking tour, as has been done in other cities displaying historic neon signs.
The general consensus was to display the signs outdoors and provide reasonable security and lighting to protect them.
Funding for the effort may come from a number of sources. Representatives from the museum made it clear the museum is very interested in helping to preserve and display the signs, including possibly sponsoring part of the display. Grants and corporate sponsorships may also be possible, along with support from local businesses.
Jetter mentioned the Safari sign, which was saved by City Manager Mark Gervasi moments before it was demolished by a clean-up crew after the fire earlier this year that claimed two downtown restaurants. Of the $2,600 spent to save the sign, $1,900 remains to be reimbursed to the city. Other costs for the project include refurbishment of signs, purchase of other signs, and installation of the signs into a display.
The next meeting of the group will be Wednesday, Sept. 28, at 5:30 p.m. at the Chamber of Commerce office. Anyone with interest in the subject is welcome to attend.
The Chamber of Commerce asks anyone with knowledge of the whereabouts of any existing Sunnyside neon signs, whether designed for inside or outside use, to contact the Chamber of Commerce. The Chamber would also like copies of any pictures of signs or memories of signs and where they were located. Bring information or pictures to the Chamber of Commerce office at the corner of Sixth and Edison, or call the office at 837-5939.