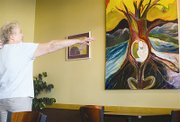 When her "Tree of Life" piece was shown in a Seattle art exhibit, it was just the beginning.
Local artist Jillian Ross said that was the moment she decided to show her art again.
"I've always been doing art," she said.
Ross began calling herself an artist at age 15. At a young age she began doing various mediums of art, including acrylic paint, ceramics and mosaic glass.
In recent years, while continuing art, Ross served as clergy for a local church. But when her piece was shown in Seattle, she says it sparked her interest to show again.
"When you can look on the wall and say, 'that's mine'; it feels good." she added.
This busy artist also works with children at Hospice, teaches fitness related courses at the YMCA and still finds time to put towards her art.
"At least 10 hours a week, no matter what else I'm doing," she added.
Ross says art gives her the outlet to show her appreciation for life. When society tells ageist tales, deeming what a person is supposed to do at a certain age, Ross wants to defy those rules. In her 50's, Ross says she is taking a big risk.
"But if you have so many years on this planet, why not do something you love?" she said.
Ross says she loves life. She wants to continue to help people and show her appreciation for life.