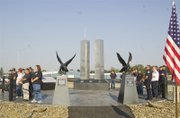 GRANGER - The Sept. 11 terrorist attacks were personal for Brooklyn native Nick Paulakis, and yesterday Sunnyside's deputy mayor praised the city of Granger for its new site dedicated to remembering.
Paulakis has an uncle who helped build the twin towers. He had a cousin who was a firefighter for Engine 33 and happened to be off that day when the towers fell.
Paulakis said his cousin committed suicide five years ago out of remorse for being the only survivor at his station. "He couldn't live with the memories, couldn't live with himself."
Paulakis was one of several speakers on hand for Sunday morning's dedication of the Granger 9/11 memorial, which features scale models of the twin towers.
Other speakers included Sheriff Ken Irwin, who praised first responders for the work they did. At the same time, he called on the audience of about 300 people to remember their part.
"You have a job to do," Irwin said. "Strong homes, strong families, strong education."