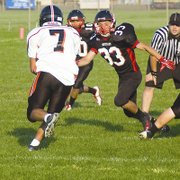 Sunnyside High School's JV football team improved to 2-0 on the young season by blistering the Davis Pirates junior varsity squad with a 38-6 whipping yesterday afternoon.
Sunnyside's Jesus Magallon and Marcus Sanchez each scored a pair of TD's for the JV Grizzlies.
Magallon's first score came on an 85-yard kickoff return. Later in the first quarter, he powered into the end zone on a 15-yard run.
Sanchez got the first of his two TD's in the second quarter of action. He hauled in a pass from QB Eddie Gonzalez and raced 25 yards to pay dirt. Sanchez tacked on another touchdown for Sunnyside while on the defensive side of the ball. He intercepted a Davis pass and returned it 40 yards for the score.
The JV Grizzlies also got an 8-yard touchdown pass from Gonzalez to Jacob Galindo in the third quarter, and a fourth quarter, 4-yard TD run from Darick Anderson.
Sunnyside Coach Darren Mezger said the JV Grizzly special teams did a great job against Davis Monday afternoon, "...and our defense really held the clamps on their offense until the very end of the fourth quarter.
"Overall, we've given up six points in our first two games, and it's great seeing 11 kids every play flying to the ball."
The SHS junior varsity grid team will host its second straight home game next Monday, Sept. 19, against Southridge.