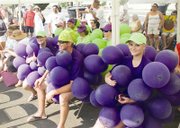 GRANDVIEW - More than a ton of grapes donated by local grape growers were stomped and pounded this past Saturday during the annual Great Grandview Grapestomp.
Teams from as far away as Everett and Bonney Lake gave the competition a go this year.
All told, nearly 100 participants on 28 teams competed in Saturday's grape stomping festival, with other activities on hand such as vendors, a farmers market and a bouncy house for the kids.
According to statistics compiled by the Grandview Chamber of Commerce, the kids under 10 years old division was won by the Welch's Finest team of Luke Corte, Joaquin Cortez and Sergio Navarro, which produced 11.82 lbs. of grape juice.
The title for children ages 10 to 17 was won by by the Grand Stompers team of Anjhie Ampil, April Carrillo and Hannah Grow with 13.58 lbs. of grape juice stomped.
Winning the adult competition with the highest total amongst all categories was the Wheels on Heels team of Mark Wheeler, Michelle Wheeler and Rochelle with 15.98 lbs. of juice produced.
Claiming the corporate division title was the Grandview Fire Department's Fire Stomper team of Jorge Campuzano, Ingrid Martensen and Joseph Barrientes, which stomped their way to 15.58 lbs. of juice.
Best costume winner in the kids division was the Soccer Stompers squad of Genesis Prieto, Alyssa Villanueva Guillen and Jessica Rocha.
Best costume honors in the adult division went to the Beehive Babes squad of Cindy Talley, Lois Johnson and Susan Lopez.
The Great Grandview Grapestomp is held the second Saturday of each September at the YVCC Grandview campus.