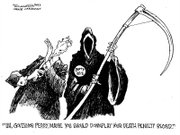 Brian Williams posed the following question to Texas Governor Rick Perry at the Republican presidential debate last week: "Your state has executed 234 death row inmates, more than any other governor in modern times. Have you struggled to sleep at night with the idea that any one of those might be innocent?"
As Williams finished the first sentence of his question, a wave of applause coursed through the audience. The crowd was apparently electrified by Texas' primacy as the death penalty capital of the United States and deemed it an accomplishment worth celebrating. Perry's response...an adamant denial of any pangs of conscience regarding capital punishment...drew further applause.
The crowd that cheered death has presented us with a teachable moment on the sordid reality of capital punishment as it is practiced here in the United States, one that, hopefully, will reinvigorate the movement to abolish the death penalty in our nation.
Multiple studies have found evidence of discrimination based on the race of the victim, the race of the defendant, or even both, in capital sentencing. According to the Death Penalty Information Center, despite that fact that African Americans account for half of all homicide victims, since 1976, more than 75 percent of those sentenced to death in the United States were convicted of killing a Caucasian.
Those receiving capital sentences are also typically poor and indigent. About 90 percent of the criminal defendants sentenced to death in the past 35 years could not afford to hire their own lawyers. And they are disproportionately Southern, from 1976 to 2010, the states of the former Confederacy accounted for more than 70 percent of all executions. If we include the Civil War "border states" and Oklahoma, it's more like 90 percent.
Today, the person most likely to be executed in America is a poor minority, represented by a public defender, convicted of killing a Caucasian in the South. It is impossible to separate this reality from its historic context.
Even worse, as George Will noted in 2000, the actual administration of capital sentencing in our judicial system "is a catalog of appalling miscarriages of justice, some of them nearly lethal. Their cumulative weight compels the conclusion that many innocent people are in prison, and innocent people have been executed."
As a result, in the words of Baptist theologian David Gushee, "the death penalty is a public policy that fails the most basic standards of justice."
Capital punishment also separates America from other Western democracies, the vast majority of which have abandoned the practice. Indeed, according to Amnesty International, today "more than two thirds of the countries in the world have abolished the death penalty in law or practice." Globally, there is now a strong correlation between capital punishment and totalitarianism. The United States annually ranks among the world's leaders in executions along with nations like China, Saudi Arabia, Iran, Yemen and Syria. Such is the company we keep.
As one would expect, many religious leaders and denominations have spoken out officially against capital punishment. Pope John Paul II, for example, repeatedly called for clemency and the abolition of the death penalty throughout his pontificate. And the Catholic Church is hardly alone in its opposition to capital punishment. A 2003 report by the Texas Baptist Christian Life Commission concluded that, "[i]n the final analysis, biblical teaching does not support capital punishment as it is practiced in contemporary society.... The practice of capital punishment in our nation and [Texas] is an affront to biblical justice, both in terms of its impact on the marginalized in society and in terms of simple fairness."
I wonder if Gov. Perry has ever read the Christian Life Commission's study?
Cardinal McCarrick, Archbishop of Washington, has written that "the death penalty diminishes all of us, increases disrespect for human life and offers the tragic illusion that we can teach that killing is wrong by killing." Cardinal McCarrick's insight is a significant one; we are all diminished when death receives an ovation because even the very worst criminals among us never cease to be human beings.
For all these reasons, rather than cheering death in judgment, people of good will should be pushing for the repeal of the death penalty and a moratorium on further executions. The law should be a teacher, and the lesson ought to be that all human life has value. That would be something worth applauding.
- Michael Stafford is a former
Republican Party officer and author of "An Upward Calling." His
columns are distributed
by Cagle Cartoons, Inc.
(anupwardcalling@yahoo.com).