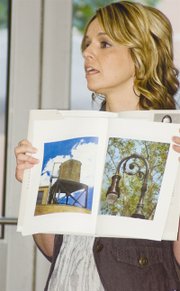 Ella Jane Photography announced the opening of its business at Wednesday morning's Rotary club meeting.
Owners Natalie Copeland and Brittany Weaver both moved to the area from different locations several years ago. When the two met at a local church they realized their dual passion for photography.
As a hobby, they did photo shoots for friends and family. Finally they decided to open their business.
Then it came time for a name.
"We thought of so many different names; we each have one daughter, Ella and Jane," Weaver said.
Ella Jane Photography was born. The business launched earlier this month and announced their opening to Rotarians this morning.
Copeland said the two like to mix the technical and artistic sides of photography together. They both work with natural light. For an hour photo session the client will receive eight high resolution photos along with countless other photos on a CD.
The two offered photography tips to Rotarians this morning.
"If a photo didn't work out right, try it in black and white," Weaver said. "I always try to use natural light and try to avoid using the flash."
Copeland and Weaver decided to make their hobby profitable.
To see sample work or for more information visit www.ellajanephotography.com