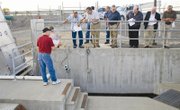 GRANDVIEW - The Grandview City Council yesterday went on a tour of the city's wastewater treatment plant, the largest in the region.
The tour provided them insight into needed improvements that will be discussed during the coming budget meetings.
City Administrator Cus Arteaga said a phased improvement plan will be presented and because the facility is a health and safety issue, grants may be available for the proposed project.
The upgrades are expected to cost in excess of $438,600 to re-engineer piping at the Euclid lift station.
City staff and engineers have recommended improvements include replacement of corroded and leaking supply and discharge pipes, lining of existing pipes that span the Yakima River and easing accessibility to pumps for maintenance.
Also to possibly be considered will be better ventilation systems for the computer systems used to operate the facility.
Arteaga said if council agrees to the proposed project the improvements may reach a cost of $1 million.
"That's if council approves all the recommendations," he said.