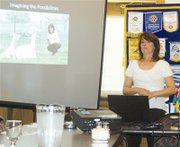 When they arrived in the Yakima Valley three and a half years ago, Danise and Bob Cathel never had owned a farm, and certainly didn't plan on raising alpacas. Now they are in the agritourism business, not only raising alpacas, but sharing them with tourists and locals through their Sunnyside area farm, Silbury Hill Alpacas.
The Cathel's had decided to try farming and knew it would be hard work, but Danise, speaking to the Sunnyside Noon Rotary this past Monday, said nothing prepared them for the reality of the job. They now raise various crops and take in rescue dogs. When they decided the farm needed some livestock, they learned about alpacas.
Alpacas are easy to raise. They need protection from the sun and wind, and not a lot else. They can subsist on minimal food, so the trouble is often keeping them from getting fat. The community of alpaca breeders is very supportive, and they've had success with the venture.
Silbury Hill Alpacas now has 37 alpacas and three guard llamas. They've held a number of events, which typically draw 100 to 200 people, often tourists from Seattle or Portland on the wine tasting rounds.
They have a farm store on site to sell alpaca products from yarn and blankets made from the fiber of their own alpacas to products made in Peru. They also offer U-pick peaches. This year's peach harvest was later than expected, and they still have peaches to pick.
Their next event at Silbury Hill Alpacas is National Alpaca Farm Days on the weekend of Sept. 24-25. Silbury Hill Alpacas will be open to the public for free from 11 a.m. to 4 p.m. both days.