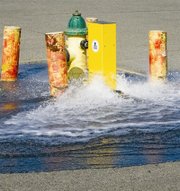 In the economic downturn, the city of Sunnyside set a plan in motion to save the city money; its name, Hydro Guard.
In order to cut down on the amount of water the city has to flush through the main water line each year, two weeks ago the temporary hydrant-based flushing system was installed next to the fire hydrant at Sixth and Yakima Valley Highway.
"We flush the entire city about twice a year," said Nate Ziegler, Sunnyside Public Works Water Division Supervisor. "With these new systems we might be able to cut it down to once a year."
This particular flushing system, currently the only one in Sunnyside, flushes each day at 3:30 p.m.
"Like clock-work," he said.
Ziegler said the system flushes nearly 700 gallons of water each minute and the system runs for 30 minutes each day. In addition, he says the city flushes water through the main lines in order to protect the quality of the city's drinking water. The volume of water that is released through a fire hydrant flushes off sediment that may accumulate on the bottom of the main lines. It also helps keep the water in the system fresh and clean.
"Now that it flushes every day, the water is even fresher than before," he added.
The current system installed is on a trial basis to flush out all the kinks in the process.
"We've purchased two more but are waiting to see how this one works out before we install the others," Ziegler added.
It's estimated the $2,000 purchase will save money by cutting down the amount of water the city needs to manually flush through the system each year.