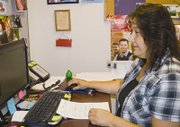 The health care profession has been a passion for Carmen Alvarez, who serves patients at Lower Valley Hospice and Palliative Care.
She has been in the field for more than 20 years and began her career with the local organization in 2007.
"I started out in billing and now provide clinical support," said Alvarez, stating she was introduced to Lower Valley Hospice and Palliative Care by Dr. John Allen.
She worked with him until he retired, in reception, serving as a certified nurses aide and drawing labs.
"Prior to that, I was a CAN and pharmacy tech for Yakima Valley Farmworkers (Clinic)," said Alvarez.
Providing clinical support for patients of hospice is different from her past experience, she noted.
Alvarez is in charge of bereavement services for chaplains, intake and referral services, as well as scheduling.
She provides translation for families being served by the organization, helping them understand the care being provided by nurses.
"I enjoy everything," said Alvarez, stating she feels a sense that she is contributing to the quality of life of others.
"I like helping others any way I can," she said.
Although the patient connection is different, Alvarez said there are some with whom she grows attached.
That can be difficult, knowing the patients won't be living very much longer.
Alvarez said it is important to provide the patients and families served by Lower Valley Hospice and Palliative Care comfort and support.
She does her best to help them through the crisis that is the end of a person's life.
"Sometimes it is something as simple as giving them someone to talk to while they go through the crisis," said Alvarez, who said she has experienced the loss of someone whom she loved due to a critical illness.
"Lower Valley Hospice was there for me...this is a way I can support others like hospice supported me," she said.
Alvarez said her job can be emotionally trying because she feels the grief others are experiencing.
"It is most difficult when someone comes to us later than they could have," she said, stating late referrals are a common issue with hospice patients.
"Those patients could have received support and comfort sooner," said Alvarez.
She is especially proud of the organization's bereavement program, which helps families grieve the loss of a loved one before the patient has actually died and 14 months beyond.
Alvarez said everyone experiences grief differently and when it is known a person is going to die the grief process can begin with the knowledge that the individual's life is being cut shorter than we would like.
The bereavement program, said Alvarez, is intended to help families, assuring them what they are experiencing is natural. It is important to grieve the loss because a person can become emotionally and physically ill if they do not go through the process, said Alvarez.
Of her duties at Lower Valley Hospice and Palliative Care, she said her role is an extension of the process.