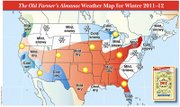 The world will not end in 2012, and in fact the year will be one to remember with three eclipses visible in North America - including a solar eclipse next May.
That's according to the 2012 Old Farmer's Almanac that just hit store shelves this week.
One of the almanac's big stock in trade, of course, is predicting the weather and the 2012 edition is no exception.
Mild temperatures, but plenty of moisture is expected this winter for the Yakima Valley, the almanac says.
As for whether that moisture will be rain or snow isn't clear according to the almanac's map descriptions which discuss the west and east portions of the state in detail.
One thing is certain, at least according to the almanac, and that is the Cascades are in store for more snow than usual.
Snow in the mountains is predicted to be heaviest in early November, late December and late February.
That's good news for irrigators here, but what might not be such good news is that April and May are expected to be cooler than normal.
Besides predicting the weather, the 2012 almanac also takes note of some trends it says are in store for next year:
- A return to "old practices" in the kitchen like pickling and sausage making.
- Blackboards instead of wallpaper.
- Front doors painted in bright tomato reds and palm leaf greens.
- Chairs and sofas upholstered in bold patterns.
- Collectibles for the year ahead are expected to include silver tea services and typewriters.
Of course, no Old Farmer's Almanac would be complete without do-it-yourself tips.
For 2012 these tips range from using newspaper to remove unpleasant odors to using beer to help a garden grow.
With a long winter ahead of us, the almanac also kindly treats us to new takes on an old comfort food: macaroni and cheese. The almanac's mac and cheese recipes - from scratch, of course - include taste twists inspired by Greece and India.
The 2012 Old Farmer's Almanac is chockfull of info and, as always, a good buy. It's also a timely way to start saying goodbye to 2011.