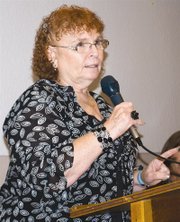 PROSSER - Jerilyn Jackson, who resides in Longview, has always known she was different.
However, what made her different when she was a child gave her a sense of insecurity.
Jackson was the featured speaker at the Lower Valley Christian Women's Connection meeting this past Tuesday in Prosser. She said many elements of her family life made her different. Her name was Jerilyn Clam, a name that was the subject of much taunting when she was a youth. Her parents were divorced, an uncommon occurrence when she was young.
Also, Jackson felt different when her mother married a commercial fisherman, an occupation unfamiliar to many of her peers.
"I spent a lot of my life trying to fit in...my friends thought a commercial fisherman was like any leisurely fisherman," she said.
Jackson said she didn't enjoy school as much as the outings with her stepfather "...especially the Navy ships."
When her stepfather hired a man to help him with his commercial fishing business, the then 15-year-old Jackson was thrilled.
The man that was hired was older with a 2-year-old daughter and Jackson was soon enamored with him.
Her mother picked up on her "crush," but her stepfather dismissed it until Jackson married the man when she was 17.
She finished high school and soon after, Jackson and her husband moved to Bangor, Calif. The town was very small and although there was a church, it wasn't used.
"We bought 20 acres and thought we would be farmers or ranchers...or rarmers or fanchers," said Jackson, initiating laughter among the Christian women's group.
There was a problem with the couple's plan. They grew up in a city and didn't know how to farm or ranch. They didn't realize they needed to tend the soil to grow the crops.
The land had a lot of clay and everything was underdeveloped.
The ranching didn't go as well as the couple believed it should, either. They had a cow and a calf and shortly after purchased 50 chicks they raised.
"We thought they were so cute...when I got one egg from 50 chickens I thought I was doing good," Jackson said.
She said her neighbors tried to be helpful, but it didn't take long to figure out the couple wasn't well suited to chicken ranching.
"My husband suggested we slaughter about 25 chickens and put them in the freezer," said Jackson, stating after killing the third chicken without grace and skill, he changed his mind. He decided they would be better off purchasing chicken from a store.
She and her husband weren't content with their life and sought friends, but the friends they found enjoyed partying.
Although Jackson and her husband weren't comfortable with the lifestyle, they felt the need to be accepted.
Then someone in town expressed a desire to open the church and learned of an organization that would send missionary pastors to towns like Bangor.
The Jacksons decided to help in the effort to get a pastor to live in the small town. They began attending church upon his arrival and Mrs. Jackson said they were dumbfounded.
"He spoke directly from the Bible," said Jackson, stating all the churches she had ever visited told her she just had to be good, nice, vote Republican or Democrat to get to heaven.
The pastor preaching in that church in Bangor told her everyone is a sinner and no one can get to heaven, but through Christ.
It took about six months, according to Jackson, before the story of the crucifixion "stuck in my head."
She said the more she thought about the words being spoken from the Bible, the greater her realization that she needed a relationship with Christ.
Jackson said she didn't realize the decision to pray and develop that relationship would change her as much as it did.
"I didn't think I would start saying no to things I thought were bad," she said of turning down invitations to attend parties.
Jackson said she began to better understand the Bible and she and her husband eventually decided to sell their property to attend a Bible college.
They moved and moved some more and moved again until they had moved 20 times to study and share the gospel with others.
Jackson said she eventually learned she would never be "normal" or common.
She learned to be content with that, having never regretted the decision to have Jesus in her life.
Jackson said her faith helped her through many difficulties in life, including raising what eventually became four children.
With Jesus, she said, she is exactly who she was always meant to be.