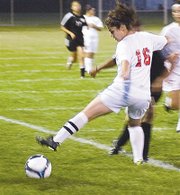 "It was a nightmare come true," said Sunnyside girls soccer Coach Sylvia Villagrana, referring to last night's home non-league match against Davis.
The Pirates ran away with a 10-0 victory over Sunnyside.
Villagrana said it didn't take long for Davis to score. Izzy Badillo scored a goal in the first minute.
"They (the Pirates) are faster than any team we have played so far and it was difficult to keep up with them," said Villagrana.
She said the Lady Grizzlies were kept on their toes, playing defense most of the match.
Sunnyside, she said, had difficulty marking its opponents.
"Their passes were connecting, whereas none of ours were," said Villagrana.
She said that also made it difficult to get a breakaway. When the Lady Grizzlies gained possession of the ball the players would push too far forward, unable to connect with the Sunnyside forwards.
"It was like we were pushing it all the way to the goal," said Villagrana.
She said the Sunnyside players attempted to double-team Davis, but that wasn't effective either.
"The Pirates would shift to one side, we would try to match them and they would find a remaining open player," Villagrana said.
Not helping the Sunnyside team was also the number of shots on goal taken by the Pirates.
Lady Grizzly keeper Liz Escobar made a total of 18 saves and teammate Rosario Rodriguez kept four attempts from making it past the crossbars.
However, 10 goals were scored.
One of those goals was a ball that deflected off a Sunnyside player.
Villagrana said there were three Davis players who scored two goals each. Standing out among them was Mackenna Morton. She scored the third goal in each half and assisted on the second goal of each half.
Badillo was the second Davis player to score two goals and Melissa Flores also scored two goals.
Emma Montmeny, Sheila Silvas and Nena Mendoza each scored a goal for the Pirates, as well.
"This match was totally different...we thought we were ready, but it all fell apart," said Villagrana.
She said the Lady Grizzlies were caught off guard by the intensity of play, but hope to recover for tomorrow's (Saturday) league match against Southridge. Sunnyside (0-2, 0-3-1) will host the Suns beginning at 1 p.m.