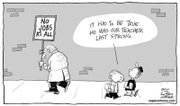 I know how frustrated Americans are with the economy and lack of jobs, but President Obama's jobs plan just doesn't appeal to the public.
Too many Americans are without jobs. This week the jobless claims rose to more than 428,000, according to the U.S. Labor Department.
That doesn't take into account the number of people without jobs who can no longer make an unemployment claim because their benefits have run out.
So, one would think Obama's plan would be popular among the unemployed and their families.
The problem is his plan caters to a certain segment of the job sector and it will require more spending of American tax dollars when the nation is already in a financial crisis.
He also wants to limit tax deductions on charitable contributions. The wealthy aren't the only Americans who make charitable contributions...hard working citizens are known to be more charitable than their wealthy counterparts.
Besides, his last stimulus plan has been proven a dismal failure even if some did benefit from it, like the city of Grandview did. Most of the money, like that given to green energy companies such as Solyndra, has been proven squandered.
Instead of proposing preposterous bills like his jobs bill recently announced to the American public, Obama should be concerned with the negative impact his administration is having on businesses like Boeing.
He should be more concerned with being business-friendly and keep the government out of decisions to expand. Boeing is trying to create more jobs and those who work for the company in Washington aren't losing out. After all, the company reported an increase in the number of jobs at its Seattle plant.
Then, there is the issue of companies reporting that too few of those seeking jobs have the skills necessary to work in certain industries.
Maybe Obama could look at that problem, and his administration might find incentive to help companies provide the proper training for individuals looking for work.
I am tired of hearing him say, "We are in a crisis..."
I want to hear him come up with real solutions that won't plunge our country further into debt and won't empty our wallets more.
I want the president to take a stand against those who feel a sense of entitlement...saying "No" to the unions and lobbyists, as well as his cronies.
This is a time for action, not playing tiddlywinks.
More like this story