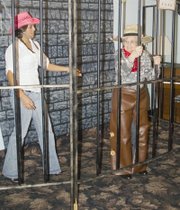 Staff at Sun Terrace Assisted Living aren't afraid to let their goofy sides show, and proved it with a campy melodrama produced for the residents yesterday.
The play was put on as part of National Assisted Living Week. "Return to Mickey's Pub" was a sequel to last year's play, and started with the bad guy, played by Sun Terrace manager Don James, already in jail. The jail later became focus of amusement as residents lined up to be photographed inside the jail.
"I give 'em an 'A' for effort," says resident Genia Edmerson regarding the play. She has been living at Sun Terrace for five years. She said she's enjoyed her stay, and the staff truly cares about the people they help. "They do an excellent job here."
&nbsp