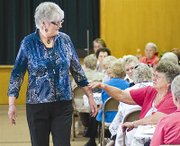 While Fashion Week in New York wrapped up yesterday, Sunnyside had its own fashion show presented by the Nouvella Club.
The Nouvella Club's annual Style Show was put on at the United Methodist Church yesterday, featuring 24 outfits modeled by seven members of the club. The outfits were provided by Priscilla's Chic Boutique in Yakima.
This is the 15th year Priscilla's Chic Boutique has supplied outfits for the show, which starts with a luncheon.
- Laura Gjovaag can be contacted at 509-837-4500, or email
LGjovaag@DailySunNews.com