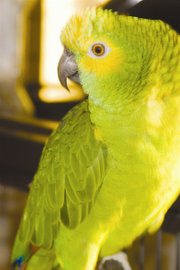 His first word was "hello." Now, Max is nearly six years old.
Five years ago, Tony Licea of Sunnyside was roaming the Pasco flea market when he met Max, an Amazon parrot. When he brought Max home at just eight months old, he became part of the family.
After attempts from Licea to train the Amazon parrot, Max began mimicking everyone in the home.
"My husband went to Pet Smart and bought CD's to train Max to speak," Tony's wife Norma Licea said.
Most often the family hears Max speak phrases like, "bye bye, hello and shower, shower."
"He even echoes me when I'm calling for my kids," she added. "When the phone rings, he pretends to answer it, 'hello'."
But after their eldest daughter was married and left home, Max's loneliness was apparent.
"Since Max was the closest to our daughter, we decided it was time to give him up," Licea added.
So the Licea family decided to put Max up for sale. In the meantime the bird is still up to its antics; randomly bursting into song and picking and choosing who he lets hold him.
"If he wants you to hold him he will lift one leg so you can pick him up with your finger," she said.
In addition, this bilingual parrot has a sense of humor. Earlier this week the Licea family brought home a new dog. A few hours later their youngest daughter said, "Mom, did we get two dogs?"
"I went to the garage and it was Max," she said. "Every time the dog barked, Max would too," she added.
Though the family feels it's time for them to part ways, Licea says they will always remember Max's sense of humor and interesting character.
Interested buyers can call Tony at (509) 830-4598.