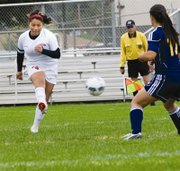 It was another frustrating 10-0 loss for the Lady Grizzly soccer team this past Saturday against Southridge.
Sunnyside fell to Davis by the identical score two days earlier.
The Suns took the early lead at the 4-minute mark, capitalizing on an opportunity when the ball deflected off the legs of the Sunnyside defense after a short shot.
The Lady Grizzlies put up a fight after that first goal, according to Sunnyside Coach Sylvia Villagrana.
However, the effort was all for naught as Southridge's Heather Johnson whittled away at the Sunnyside defense. She scored four goals the entire match.
"Our defense tried to do everything they could to stop Heather, yet we just could not keep up with her," said Villagrana.
She said speed was a key factor to the Suns' victory.
Sunnyside hasn't the speed of some of the opposing teams this season and Villagrana believes the Lady Grizzlies will need to continue working on that to compete.
Johnson scored two goals in the first half, Suns teammate Brooke Benecke scored one goal and Michelle Foster scored two goals.
The Suns led 5-0 at halftime during which there was a 30-minute rain delay.
The second half was worse for the Lady Grizzlies as Southridge's Hannah Sanders scored two goals, Johnson scored two of her four goals and Benecke scored one goal.
Sunnyside keeper Liz Escobar was kept busy throughout the match and made a total of 20 saves.
"There were too many close calls as twice she and a defender collided with each other in order to stop a shot on the goal from occurring," said Villagrana.
Sunnyside (0-3, 0-4-1) will host Pasco tomorrow (Tuesday) for another league match-up.