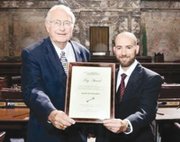 OLYMPIA - The Washington Coalition for Open Government presented Sen. Jim Honeyford (R-Sunnyside) with its Key Award last Thursday for his efforts to improve legislative transparency this past session.
Jason Mercier had the privilege of presenting the Key Award to Honeyford on behalf of the coalition on the floor of the state Senate.
In a prepared statement Mercier, past treasurer of Washington Coalition for Open Government and current board member, introduced himself. He is also director of the Center for Government Reform at the Washington Policy Center.
On the Senate floor, Mercier explained, "The coalition is an independent, non-partisan, non-profit organization dedicated to defending and expanding government transparency and accountability in our state. We accomplish this through a variety of educational programs, by interventions in the legislature and the courts and by encouraging support for open government through several different award programs, including our 'Key Award'."
He said, "The 'Key' is symbolic of unlocking file cabinets of records and the doors of closed meetings and also of the key contributions made by the recipients of the award in furthering the cause of open government in Washington."
He recognized Honeyford's efforts to make the working of the Washington legislature more transparent to citizens.
Honeyford has represented the 15th Legislative District in Central Washington since 1995.
He has been criticized by some in the legislative leadership who have been charged with obscuring the lawmaking process from the public, according to Mercier.
Mercier said, "The unsavory practices include holding public hearings on bills without adequate notice, holding hearings on bills before they receive their first reading on the floor, holding hearings on bills with the text of the bill not available to the public prior to the hearing, voting on bills in committee the same day as their hearing and holding hearings on bills that aren't even on the committee agenda."
He said Honeyford was fed up with these abuses during the 2011 session and left a hearing in protest after a bill that wasn't on the agenda was considered by a committee.
Honeyford said, "Washingtonians deserve better, which means proper notice of the time, location and topic of public hearings. That's the only way citizens will have a meaningful opportunity to review legislation, understand its effects and communicate with their legislators before votes are taken."
According to Mercier, The Washington Coalition for Open Government and the Washington Policy Center agree wholeheartedly.
Its board of directors and members of the coalition congratulated Honeyford, and encourage others to follow his example.