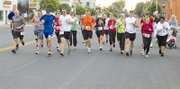 A new attraction during Sunshine Days, the 5K Sun Run, attracted 30 runners this past Saturday morning.
Enjoying cooler temperatures, the Sun Run field covered a three-mile course that included a jaunt over Harrison Hill and back.
Dustin Sloan of Sunnyside finished the untimed race first, followed closely by Ryan Maxwell, also of Sunnyside. The winning time was estimated at about 20 minutes. Tony Gonzalez of Grandview was third in the men's portion of the run.
The first woman to cross the finish line was Brittany Weaver of Sunnyside in a time of about 26 minutes. Gonzalez's wife, Marci, claimed second place honors, and Bethany Morris of Outlook was third.
The top three finishers among men and women each received a medallion.
"It's a great race, it was perfect," said Sloan, who usually runs in longer distance events.
Weaver, who crossed the finish line with husband Derek, has been running in organized races for 15 years, but this was her first after having the couple's fifth child.
Teri Alvarez-Ziegler helped organize the Sun Run as a Sunshine Days event and fundraiser for the Miss Sunnyside program.
"We had more people than I thought," she said. "There weren't a lot of pre-registrations, but I heard there was lots of buzz about it."
Alvarez-Ziegler said the plan is to have the Sun Run, sponsored by Sunnyside Community Hospital, as an annual feature for Sunshine Days.