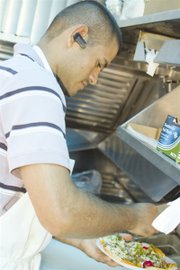 The day begins before the sun rises and it ends well after the sun sets; but it's all in a day's work for Pepe Navarro and Ernesto Talamanpes.
"Some people think it's easy, but it's not," Talamanpes said.
The two serve as taco-truck style vendors for the Sunnyside area. Navarro owns El Mejor Taquito, open year-round, which has a sit-down restaurant and a mobile site. Talamanpes owns Taco King, a mobile site. Navarro, owning his business for more than 30 years, says he ventured into this business to be his own boss.
"I used to work for someone else," he added. "But I wanted to do it for myself."
More than 30 years ago Navarro moved to the United States; nearly 14 years ago he moved to the Yakima Valley.
"I've been cooking for a long time," he added.
But for Talamanpes, it wasn't a choice to start his business but rather more of a calling.
"It's all I've ever known; cooking," he said. "I don't know anything else."
But some days, Talamanpes says the days seem endless.
"It's hard work, sometimes you work a 10, 12, or even 16-hour day," he added.
To get started in the mobile vendor business, Navarro says you first must have a commercial-style kitchen to prepare the food. This is where his sit-down restaurant comes in handy. The facility must be approved by the health department and all workers must hold a food handlers card. In addition the city must issue a business license and the business must register for a tax ID.
For both Navarro and Talamanpes, cooking is more than a job, it's a craft.
Once the food is prepared, meat cooked (to health department standards) and vegetables sliced, it can be loaded into the truck. In the truck, the food is stored in compartments approved by the health department that maintain the food's freshness and taste.
Then it's off to the mobile site, where the truck will sit for more than 10 hours a day; sometimes with just one worker and sometimes more.
"In the winter it sometimes gets cold," Navarro said.
Near the end of summer is the busiest for Navarro. He says the weather is cooling down but it's still not too cold outside. The most challenging part of the day for both Navarro and Talamanpes is trying to guess how much food to prepare for the day.
"It all depends on how many customers show up," Talamanpes said.
Taco King is currently on a hiatus but El Mejor Taquito can be found near Yakima Valley Highway and Ninth Street in Sunnyside.