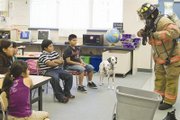 What do firefighters and fourth graders have in common?
According to Sunnyside Firefighter Tony Castillo, the subjects learned in Mrs. Ledesma's class are essential to the everyday life of a firefighter.
First and foremost firefighters must know their math. Castillo says when putting out a fire, firemen must know a gallons-per-minute formula to properly put out the fire. Once it's put out, reports are filled out. Castillo says this is where penmanship is very important.
"Someone else needs to be able to read what you wrote," he added.
Additionally, firefighters must be able to read and comprehend detailed reports.
Next, Castillo explained the science behind fires.
"A fire is a chemical reaction," he said.
When heat, fuel and oxygen are mixed together with rapid oxidation, a fire occurs. Castillo told the class firemen must know certain chemical reactions when fighting the fires; they must also know how to keep themselves safe.
In the old days all reports were filled out by hand, but now the department is keeping up with the tech age.
"You have to know how to type," he added. "Now-a-days we enter the reports in the computer for a state-wide database."
And all firefighters would agree being physically fit is of the utmost importance.
"I have to be able to carry my gear, and up to a 300-pound person out of a fire," he added.
Castillo told the children the importance of staying physically fit for a firefighter could result in life or death.
At the end of the presentation last week, Dottie Sue, the department's fire prevention Dalmatian dog, showed children what to do in case of a fire; stop, drop and roll.