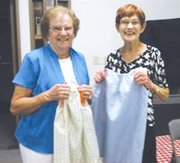 Nearly 30 African school girls will receive hand-made dresses from one local woman, Lucille Rohman.
African schools require girls to wear dresses to class each day. Alpha Lambda, the Lower Valley chapter for the Delta Kappa Gamma International Society of Key Women Educators, decided to get behind a project to ready the young African girls for school.
The local chapter is participating in the society's international project partnering with UNICEF to distribute handmade dresses for female students in Africa.
Judy Carrick of the local chapter asked Rohman, who is not a member, to make a prototype dress to show to the group. To her surprise Rohman showed up with 29 dresses to donate to the chapter for distribution to Africa.
This year Alpha Lambda will host the society's state-wide convention in Yakima, scheduled for later this month.
"I'm excited to be able to take at least this many (dresses) to the convention for distribution," Carrick said.
According to Carrick, Rohman decided to make more than one dress out of the goodness of her heart.
"It was totally unexpected," she added.
Carrick added that Alpha Lamba also supports local projects along with international efforts to support education for women worldwide. For more information on the society visit, www.dkg.org.