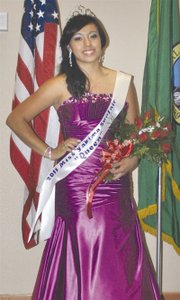 YAKIMA - This Saturday, Sept. 24, is the 50th annual Sunfair Parade in Yakima.
Newly crowned 2011-12 Miss Yakima Sunfair Marisol Velazquez, a recent graduate of Sunnyside High School and the last to hold the Sunnyside Miss Cinco de Mayo title, is currently a student at Washington State University Tri-Cities.
The Sunnyside resident is the first Miss Yakima Sunfair after 10 years without the pageant.
She invites community members from Sunnyside and the Lower Valley to attend the parade.
Velazquez and her court will be featured in the Sunfair Parade, which is set to begin at 10 a.m.
The parade route, she said, will traverse Yakima Avenue from 16th Avenue to Naches Avenue.
Also in the parade will be the newly crowned 2011-12 Miss Sunnyside court.