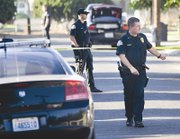 Sunnyside police this morning (Wednesday) investigated a shooting at North Avenue and North 10th Street.
Just after 6 a.m. residents in the area reporting hearing gunfire. One believed there were five shots fired and another believed she heard eight shots fired. The second caller reported seeing a black car leaving the area.
Police at the scene this morning confirmed at least one individual was a victim of at least one gunshot wound.
The investigation was ongoing as of press time and further details were not available.