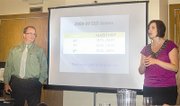 The math test scores of Sunnyside sixth and seventh graders have dramatically improved over the last two years, and middle school math coaches Josh Schlegel and Angel Carrizales are happy to explain why.
Speaking at the Noon Rotary meeting on Monday, Schlegel and Carrizales gave an overview of the program that has worked so well in Sunnyside that they were asked to present it to State Superintendent Randy Dorn. Sunnyside students have been progressing faster in mathematics than any other district in the state.
In 2008, district scores on standardized math tests were dismal. But a study showed that students were learning what they were taught. The problem was the curriculum. Students were going into the standardized tests and being presented with problems they had never learned to solve.
Simply changing the curriculum was not enough. No single curriculum teaches all the concepts in the state standards. The district had to work to create a new system that aligns everything taught in the district to the standards, and a new assessment program to make sure the students stayed on track with the standards.
The program wouldn't work without the full support of teachers and administrators. "We are all authentically bought into the work we are doing," says Schlegel. But it was a hard sell to parents at times. The new system does not use standard textbooks nor does it require nightly homework. Grades are based on how well the students are learning the standards, not on attendance or class work.
Interventions and enrichment programs are available to all students in the program. The students have an additional class during the day to get help, instead of struggling through a mass of problems alone at night.
The result has been impressive. "Success breeds success," says Carrizales. "We've created small wins along the way." And those small wins have resulted in big improvements. The number of students in sixth and seventh grades meeting the standards has doubled in the past two years. Of the students in the eighth grade that took algebra, 80 percent met standards.
This has gotten wider notice from the state. In a district where 98 percent of the students qualify for free or reduced lunch, this sort of improvement is unique.
Carrizales says the improvements will continue. Each year the program has focused on a particular grade. This year they are focusing on improving the eighth grade scores. "We'll see the results next year," she said.