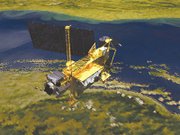 Is it a bird or is it a plane?
It might be NASA's space junk.
NASA's Upper Atmosphere Research Satellite, or UARS, is expected to re-enter Earth's atmosphere by the end of this week, almost six years after the end of its scientific life.
NASA reported as of 7 a.m. this morning the re-entry is expected sometime tomorrow afternoon, Sept. 23, Eastern Daylight time. NASA says the satellite will not be passing over North America at all.
NASA reported currently it is too early to determine the exact time and location UARS will re-enter the Earth's atmosphere. But NASA says officials are watching the satellite closely and will keep the public informed.
Although the spacecraft will break into pieces during re-entry, not all of it will burn up in the atmosphere.
NASA says the risk to public safety or property is extremely small. Since the beginning of the 'Space Age' in the late-1950s, there have been no confirmed reports of an injury resulting from re-entering space objects or of significant property damage resulting from a satellite re-entry.
The updates on the satellite's re-entry will come from the Joint Space Operations Center of U.S. Strategic Command at Vandenberg Air Force Base, Calif., which works around the clock detecting, identifying and tracking all man-made objects in Earth orbit, including space junk.
NASA says it is impossible to pinpoint exactly where the debris will land, but estimates the debris footprint will be about 500 miles long.
If a resident finds an object that may be part of the UARS, NASA says to leave it alone. Instead they suggest contacting local law enforcement.
Hourly updates on the location and projected trajectory of the object can be found at http://www.nasa.gov/mission_pages/uars/index.html.
Credit: NASA
This conceptual image shows the Upper Atmosphere Research Satellite, launched on Sept. 15, 1991, by the space shuttle Discovery. Originally designed for a three-year mission, UARS measured chemical compounds found in the ozone layer, wind and temperature in the stratosphere, as well as the energy input from the sun. Together, these measurements helped define the role of Earth's upper atmosphere in climate and climate variability. The 35-foot-long, 15-foot-diameter UARS was decommissioned on Dec. 14, 2005.