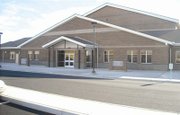 BICKLETON - A new school just in time for a new school year is the focus of an open house celebration in Bickleton set for Thursday, Oct. 20.
The 92 students in this school district started classes on Sept. 6 in a brand new K-12 school building that replaces two aging, failing school houses.
All that's left of the old high school, site of the new building, is the gym that now is part of the new campus.
That gives the district two gyms and four locker rooms.
The new building is funded through a nearly $9 million bond voters here approved a few years ago by about a 4-to-1 margin.
A portion of the overall price tag of $10 million is also funded through state matching money.
The previous high school and elementary school buildings in use had issues, noted Superintendent Ric Palmer.
The elementary school's heating system failed to heat classrooms above 50 degrees, forcing students to wear coats. The old high school's septic sytem was also failing, Palmer said.
Besides the obvious benefit of modern building systems and advances in technology, Palmer said it is a great benefit to have all students, faculty and district administration in one building.
"Having everyone in one building is a plus - not having to cross the highway," Palmer said.
He added classrooms in the new building are bigger. Other features are an open floor plan and a commons/activity area.
There is also expanded parking for the new school building.
During the Oct. 20 open house, which will be from 6:30 to 8 p.m., Palmer said visitors will also note a nod to history in Bickleton schools, such as classroom pictures dating back to 1900 which will line the hallway of the new school's entrance.
The new project also benefits the old high school gym, as Palmer said a remodel there has resulted in a new heating system and insulation.
Looking ahead, Palmer said there is still work to be done, such as finishing the track, some bleachers and asphalt.
Funds permitting, Palmer said the district may tear down the old elementary school building and turn it into a Bickleton community park. "We'll have to wait and see," he said. "We're real tight on the budget, but if there's some money left we will probably tear it down."
The public is invited to the Oct. 20 open house to check out the new school and classrooms for all of the district's students, kindergarten through 12th grade.
"We're one big happy family," Palmer said.