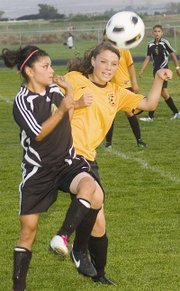 MABTON - The Lady Viking soccer team overcame a 2-0 deficit to defeat visiting Royal 3-2 in overtime last night, Thursday.
The Knights did all their damage in the first 30 minutes of the match, scoring on a free kick and a corner kick to go up by two goals.
Mabton scoring powerhouse Micki Williams then went to work booting home a goal with 10 minutes left in the half.
The Lady Vikes trailed 2-1 at intermission and it looked like the score might stay that way before Williams scored the equalizer with just 10 minutes left in regulation.
"She was guarded by two or three defenders, went to the right and took a shot from 18 yards out," Coach Elizabeth Garcia said of the clutch goal by the mighty Micki.
Knotted at 2-2, the two squads had to play a sudden death overtime.
Two minutes into the extra session it was Williams, naturally, who scored the golden goal on an assist from teammate Maria Gonzalez. After gathering in the pass Garcia said Williams went to work on the game winner, "She took two or three defenders and pocketed the ball in on the right side of the keeper."
While a game winning hat trick is a nice feat, Garcia also praised her team's defense for bearing down after Royal's early barrage and keeping the game within reach.
"The girls intensified, they played to their potential," the coach said. "Every 50/50 ball was fought, we had pressure on every single time."
For the match, the league opener for the Lady Vikes, Mabton outshot Royal 17-to-11.
Lady Viking keeper Maryellen Gutierrez recorded nine saves.
Mabton (1-0, 4-2) is home next Tuesday to face Naches.