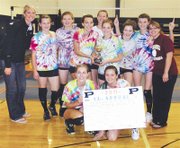 PASCO - The Sunnyside Christian Lady Knights won all three matches at the Tri-Cities Prep Invite on Saturday, taking first place. The Bickleton Lady Pirates also played at the tournament.
The Lady Knights won their first match against Bickleton 25-14, 25-15. Their second match they beat Columbia Burbank in three, 23-25, 25-21, 15-8. The third match against Tri-Cities Prep they won in two, 25-16, 25-15.
"We played very well today as a team. We had times where we would get behind or be making mistakes and we always finished strong to win the game," said Sunnyside Christian Coach Stephanie Dalrymple. "Our serving was great today and that helped us stay in control."
The Lady Knights had a strong showing from all their players. Alyssa Haak went 31 for 32 in serving with eight kills and 29 assists. Alexandra Newhouse went 27 for 28 serving with seven kills and 23 perfect passes. Brittany Broersma contributed eight kills and five blocks. Stormee Van Belle was 20 for 22 serving with 18 kills. Danika DeGroot went 22 for 22 in serves with 10 kills and 26 assists.
Maddy Wavrin was 12 for 13 with 18 kills and 17 perfect passes. Ashleigh Oswalt went 23 for 24 serving with 19 perfect passes.
"My team has been working very hard during practices and today's results show that," Coach Dalrymple said after the game. "We have things that we will continue working on but we are very happy with how we are playing right now."
The Lady Pirates didn't fare so well. After losing to Sunnyside Christian, they lost to Tri-Cities prep in two, 25-11 25-22 and to Columbia Burbank in two, 25-13, 25-18.
Bickleton coach Joelle Patterson said, "My girls did really good, we played against some really good teams. I was happy with how they played."
Bickleton's next match is at Lyle tomorrow, Sept. 27.
Sunnyside Christian next plays Lyle on Thursday, Sept. 29, at Lyle.