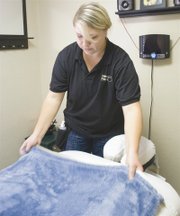 Providing her patients with a better quality of life and improving their overall health is the goal of massage therapist Mollie Pearson of Fodor Chiropractic in Sunnyside.
The Sunnyside High School graduate enjoys seeing her patients leave therapy with a smile on their faces, feeling better for having had a massage.
Anyone who has suffered from whiplash or severe back pain knows how miserable life can be.
Pearson seeks to alleviate that pain, giving patients relief and the ability to live more comfortably.
She chose massage therapy as a career after first realizing the power of touch.
"I was working with an elderly woman. I gave her a hug and she began to cry...it was that moment that made me realize the healing power from being touched," said Pearson.
She was in high school at the time and had to select a senior project. She chose to explore massage therapy because she enjoys helping others.
Pearson, having learned about the career through her senior project, felt compelled to pursue the profession.
After graduating high school, she roomed with her sister in Cheney while her sister attended Eastern Washington University. Pearson attended Inland Massage Institute in Spokane and graduated last year.
She has been working for Fodor Chiropractic for just more than five months and finds massage therapy more fulfilling by the day.
"I like seeing people begin to feel relaxed and refreshed," said Pearson.
"The ultimate goal is to see the visible difference in a person as a result of therapy," she said.
Pearson said she was trained in Swedish massage, but her work involves a lot of deep tissue massage.
"It's typically whatever the patient prefers, but I attempt a clinical approach to resolve an issue," she said.
Pearson said massage therapy is more widely recognized as a medical treatment than it once was.
For that, she is glad because it means patients suffering an injury from a work-related or vehicle accident, or anyone suffering severe pain, can seek non-evasive treatment for their overall well-being.
"Massage therapy wasn't as widely accepted as it now is. Insurance companies recognize it as a treatment and patients like it because it can reduce the need for medication," said Pearson.
She said it provides patients with more options for their health care.
Pearson said some patients are reticent during their first treatment.
"But, I feel honored that they become comfortable and entrust themselves to me," she said.