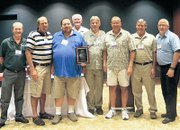 YAKIMA - For the third time, Bleyhl Country Stores have won the prestigious Farm Mart Retailer of the Year Award for overall presentation, exemplary customer service and community involvement.
The award was announced Sept. 9 during the annual Horizon Distribution Inc. (HDI) trade show in Yakima.
Bleyhl Farm Service Inc. has served the changing needs of the Yakima Valley since 1964. The company's five retail stores - in Sunnyside, Grandview, Zillah, Toppenish and Pasco - adopted the more customer-oriented Country Store name about three years ago.
Presenter Dale Engel, HDI eastern regional sales manager, lauded Bleyhl for "consistently maintaining strong presentation in its stores with a clean, well merchandised, friendly and fun atmosphere for the customer to enjoy."
Prior to the award, Bleyhl retail division manager Bill Nolt described the company's business philosophy as always striving to exceed customer expectations. The greatest reward a business can have, Nolt said, is the testimony of a satisfied customer. "We're honored to be recognized again," Nolt said.
Bleyhl previously won the Farm Mart Retailer of the Year Award in 1999, when it opened its present Zillah store, and again in 2005 for the major remodel and inventory expansion at its Sunnyside location.
In 2008, Bleyhl opened its new combined farm store and convenience store in Grandview, and this year remodeled the Zillah store.