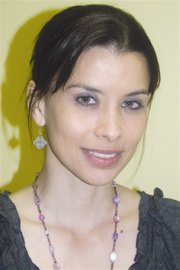 Sunnyside Community Hospital's newest hospitalist is Dr. Jeisa Gomez.
Gomez, who specializes in internal medicine, did her residency in Puerto Rico.
At the hospital here she will focus her work on seeing patients admitted to the hospital.
"I love to help people," says Gomez, who says her interest in medicine began as a child when her uncle became a doctor.
Working as a hospitalist is a good fit for her, says Gomez.
"I like taking care of patients in the hospital setting most," she says. "I worked in an ER in a private hospital in Puerto Rico for four years. I'm used to being in a hospital."
As for what drew her to Sunnyside Community Hospital, Gomez says, "It has everything a big hospital has, but it's a small community so I can have close relationships with the patients."
She says the community and the hospital staff have all been welcoming.
"I love this hospital," Gomez smiles. "Everybody is welcoming."
Gomez, whose first language is Spanish, says she also appreciates the high percentage of Latino patients at Sunnyside Community Hospital.
Another factor that helped attract her here is her friend Dr. Garcia started working at one of the hospital's clinics. Garcia also did her residency in Puerto Rico.
"She's a personal friend and she let me know about the hospital," Gomez said, noting that Garcia and her husband have been like family to her since arriving in Sunnyside.