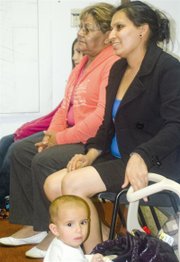 MABTON - A half dozen or so Mabton residents and their children showed at last night's city council study session to ask for help.
Sonia Rosales asked the council to consider placing speed limit signs at the newly opened Catholic Charities housing development.
According to Rosales the new development doesn't have any signs up, making it difficult for law enforcement and even residents to enforce a speed limit. The group who came before the council last night requested the change for the sake of their children.
"It's dangerous for our children to be outside," she added. "This is very important to us."
Mayor Angel Reyna said the council would look into the matter. He assured the residents that the council would do all they could to help, but encouraged them to also call the police or attempt to record a license plate number.
"That way we at least know who (the speeding drivers) are and can get them next time," he added.
During the regular council meeting, Mayor Reyna asked the council to consider setting speed limits for the area and asked Police Chief Rick Gutierrez for input. Reyna said the council will have an ordinance to vote on at the next meeting.
Amber Schlenker/Daily Sun News
Aaliyah Martin, 1, occupies her time by playing in her mother's purse at last night's city council meeting. Several adults and children who attended last night's meeting asked the council to step in to slow down drivers in their neighborhood.