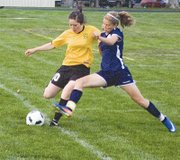 MABTON - With the exception of a seven-minute outburst, the Mabton Lady Viking soccer team held visiting Naches in check last night.
That seven-minute exception Tuesday night proved critical, as the Rangers scored twice to escape Mabton with a 2-0 victory.
The veteran Naches squad dominated play in the first half, firing one rocket after another at Mabton keeper Maryellen Gutierrez, who deflected or caught each one to keep the game scoreless.
The Rangers finally found their breakthrough in the 20th and 27th minutes of the first half on a pair of set pieces.
The first came on a Mabton throw-in on the Lady Viking half of the pitch. The throw-in resulted in a scrum about 18 yards in front of the Mabton net and a blistering kick from Naches that caught the upper right half of the Lady Viking net.
Just seven minutes later Naches' second goal came on a Ranger corner kick that deflected off the back of a Naches player and into the Mabton net.
Mabton Coach Elizabeth Garcia said the situation with both scores is that Mabton players were not marking up their Naches opponents.
"Our lack of experience came into play," Garcia said of Mabton's line-up, which includes eight freshmen and sophomores. "The girls were sometimes getting confused whether they should play a ball or the person."
Garcia also gave credit to the Rangers, "Naches knows how to pass really well and use their space."
With Naches up 2-0, Mabton's defense shut the door over the final 53 minutes to keep the Lady Vikes in the match.
"We saw one of their (Ranger) midfielders was helping them with feeding the ball to their forwards, so we put one of our girls with a lot of speed on her," Garcia said.
That girl was Aisha Colley, seeing her first varsity experience. "She did a good job," Garcia said of Colley. "We needed someone with speed to stop their midfielder."
On offense, Mabton started pressuring the Naches goal. "We had a few good runs," said Garcia.
Mabton's pressure led to two penalty kick attempts in the second half, but both were missed. Lady Viking forward Micki Williams also had a strong shot on goal in the second half, which hit the post and deflected away.
Mabton had eight shots on goal for the match, while Gutierrez recorded 12 saves in goal. "She had an amazing game," Garcia said of her keeper. "She did a great job."
Mabton (1-1, 4-3) travels to Cle Elum tomorrow, Thursday.