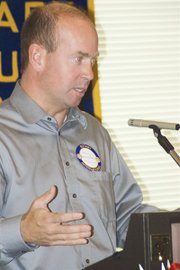 Judge Rob Lawrence-Berrey is up for re-election.
When the scheduled speaker at Sunnyside's Noon Rotary Club meeting this past Monday failed to show it allotted the perfect moment for visiting Rotarian and current sitting Superior Court Judge Lawrence-Berrey to speak.
Lawrence-Berrey spoke to Rotarians about his qualifications for Yakima County Superior Court Judge, Department 7, over his opponent, Ken Ramm.
"I've spent over 20 years doing litigation," he added.
Rob Lawrence-Berrey began his career as an attorney in 1989. From 2006 through 2010 he sat as a part-time Superior Court judge. In January 2011 he became a full-time Superior Court Judge.
Lawrence-Berrey explained to Rotarians the three general types of cases; criminal, civil and divorce.
"Criminal cases comprise about 50 percent of the court's time, and civil cases and divorce cases comprise about 40 percent of the court's time," he said.
In criminal trials, judges rarely decide the outcome.
However, in most civil and all divorce cases, judges decide the case.
Because judges, not juries, decide civil and divorce cases, he says it is important that a Superior Court judge have broad legal and judicial experience that includes civil and divorce law.
In addition to explaining his legal background, Lawrence-Berrey opened the floor to Rotarians' questions.
Sunnyside High School student Taylor Schroeder questioned whether or not it was difficult to stay objective when presiding over a case; especially in a matter that was of personal and/or moral importance.
"It's what we are trained to do," Lawrence-Berrey said.
In an effort to stay objective, Lawrence-Berrey explained that his job is to iron out the facts and apply them to existing law. There is no room for personal opinion in the matter, he said.
In addition, Lawrence-Berrey indicated voters should consider the candidates' experience when casting their votes. With experience in the current judicial seat he holds, he feels he is the best candidate for the job.
Lawrence-Berrey plans to visit various Rotarians across the valley in the coming week.