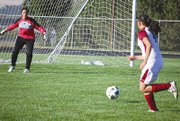 GRANDVIEW - The 1A Royal Knights soccer team weren't able to keep up with the 2A Grandview girls soccer team last night.
The larger school prevailed 6-1 in the non-league match.
The Lady 'Hounds dominated the entire match, with a goal made by Karissa Trinidad, two goals made by Brenda Ruiz and a hat trick by Oryian Matheny.
Trinidad helped Matheny score the first goal 12 minutes into the opening half. She also assisted Ruiz with a goal at the 48-minute mark.
Royal wasn't able to score until the 19th minute of the match. Scoring the lone goal for the Knights unassisted was Cynthia Sid-Beltran.
Ruiz scored her first goal, assisted by Miranda Ebbelaar, five minutes into the second half.
Trinidad scored on an assist by Matheny at the 70-minute mark.
Matheny got the ball past the Knights' defense unassisted at the 29-minute mark. She also scored the final goal unassisted with just five minutes left in the match.
The Lady 'Hounds led the match 2-1 at halftime, with Royal only having had the one goal on one attempt.
Grandview made 14 attempts at scoring in the first half.
"Royal's goal keeper was outstanding," said Grandview Coach Anne Holden.
At the final whistle, the Knights' keeper had 18 saves as the result of Grandview's 24 attempts to get the ball past the crossbars.
"Grandview dominated in possession, field position and shots on target," said Holden.
Royal was only able to slip past the Lady 'Hounds' defense three times in the closing half and Grandview keeper Jamila Shafer was prepared, keeping the ball from making it into the net each time.
"Our link play was good and the tempo was up and down," said Holden of the match.
She was pleased with what she believes was a solid performance by the Lady 'Hounds.
Grandview (1-1, 2-3-3) tomorrow (Saturday) hosts Ellensburg for a league match-up.