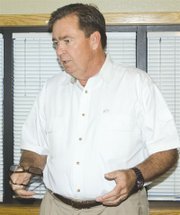 An item on this November's general election ballot was the focus of the Sunnyside Republican Club's meeting this morning, Friday.
Yakima County Commissioner Rand Elliot spoke to the club about a proposal on the ballot to create a home rule for Yakima County.
If approved, Elliott says the measure would do away with the current three-commissioner system and instead a group of 15 freeholders - which will also be decided on this November's ballot - would be elected to divide the county in up to nine districts.
Each district would elect its own county commissioner and the new commissioners would hire an administrator to handle day-to-day operations.
The boundary lines would be drawn up by the freeholder group. If voters approve the home rule system, Elliott said the freeholders would have up to 18 months to present voters with a proposal for county commissioner districts.
Elliott said momentum for the home rule proposal is coming from Democrats. He noted many of those who have proposed the rule are Democrats who have been voted into and out of office in this county.
Elliott said he and his colleagues on the board of county commissioners have an open door policy, receiving and responding to phone calls from the public on a regular basis.
As for financial support of the home rule movement here, Elliott noted much of the backing is coming from the Seattle area.
Elliott also suggested the home rule arrangement, if approved, would be more costly for the county because in addition to paying the salaries for up to nine commissioners, taxpayers would also have to foot the bill for an administrator's salary.
He cautioned that under home rule the county auditor, assessor, treasurer and sheriff positions would not be elected by voters. Instead, they would be hired employees.
"It's brought about by frustrated people, Democrats, who don't feel their views are represented," Elliott said. "If they can't win a countywide election, it seems they're trying to change the election process."